U.S. crane mahorobano local sake (entering 720 ml of bottles was sold out)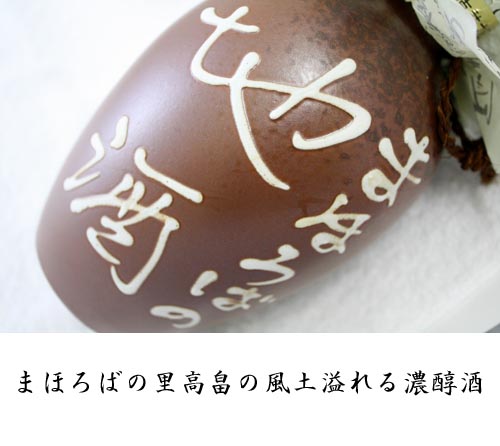 This highly-concentrated brew of unique earthenware filling only by four steps of training.
[to customer having you favor mahorobano local sake]
About our product "mahorobano local sake," we cancel production at limit in this season
It was expected.
We will finish sale as soon as current product is sold out with this.
We thank customer who had you favor on this occasion until now.
<7/9 postscript>
Because of favorable reception, product with bottle became sold out.
Only product with earthenware has stock now.
We would appreciate your ordering after checking product on order.
Taste comment ________________________________
It is full-bodied plump sweet liquor that mellow sweetness and harmony of soft taste are wonderful.

___________________________ which we recommend to such a person
・We like sake, and it is hard but to be hot…One called this
・Person who goes berserk, and wants to be careful with lingering sound more
・Toward the sake beginner
Brand name
U.S. crane mahorobano local sake
Raw materials rice
Hananomai and others (Yamagata Prefecture product)
Rice cleaning rate
65%
Alcoholicity
18%
Sake degree
-3 ~ -6
The acidity
1.4-1.6
Use yeast
Association 701
Retail price desired

1,800 ml
4,000 yen (tax-excluded)
720 ml
2,600 yen (tax-excluded)

Voice _________________________________ of customer

We ordered and ordered again last time as it was very delicious.
(December 23, 2010 Kagoshima N state)

It is always fan of this liquor.
(November 13, 2010 Ibaraki K state)

As we thought that one and pot container containing which we drank thing which we had as souvenir by oneself and were easy to drink were good as present to friend, we decided the purchase.
(December 17, 2010 Kanagawa I state)
2018.07.09:
It is origin of brewing of Takahata-machi, Yamagata nomahorobano sake brewery "U.S. crane" (yonetsuru). Of the U.S. crane.
Search of Yamagata Reviews information