We are opened on west Azuma sky valley Thursday, April 26
West Azuma sky valley was opened.
Opening Sun Thursday, April 27 10:00 a.m. ~
Suspension of traffic (17:00 ~ 7:00, the following day) night until the middle of May
Reference: Okitama synthesis branch Construction Department road planning section 26-6000 (main)

West Azuma sky valley is mountains road of approximately 20 kilos to fall out from Shirabu Hot Springs to Urabandai.
Scenery is perfect driving range fantastically, too.
It is Shirabu Hot Springs ~ Urabandai approximately 40 minutes.

Bathing in Shirabu Hot Springs, meal
Skywalk in trekking Tengendai Kogen of west Azuma
Through sky valley by all means spring than the Fukushima side
Yonezawa, please receive while enjoying scenery.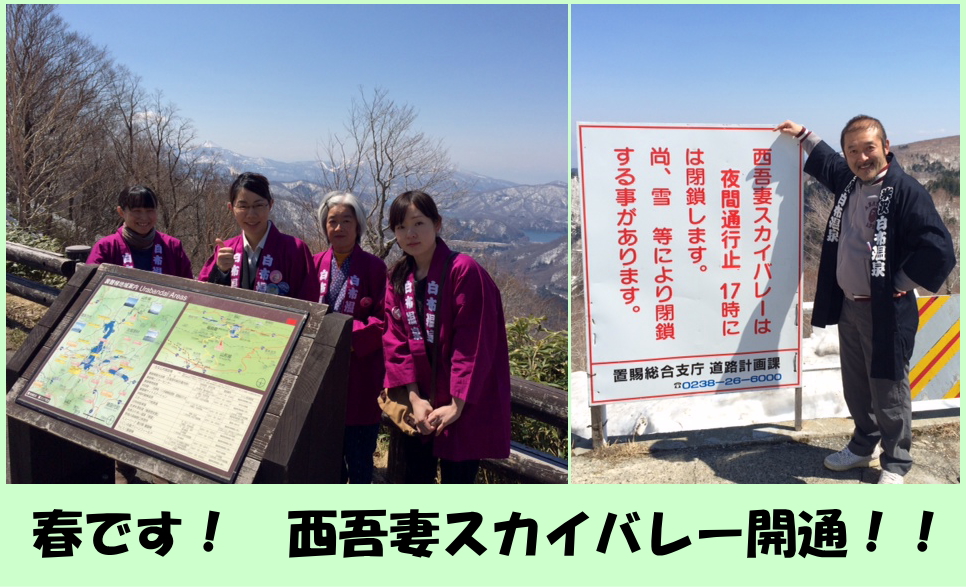 2018.04.30:
Thank you very much for you seeing our site. General Yonezawa sightseeing.
Search of Yamagata Reviews information