Please see change of Yonezawa rice field art with live camera!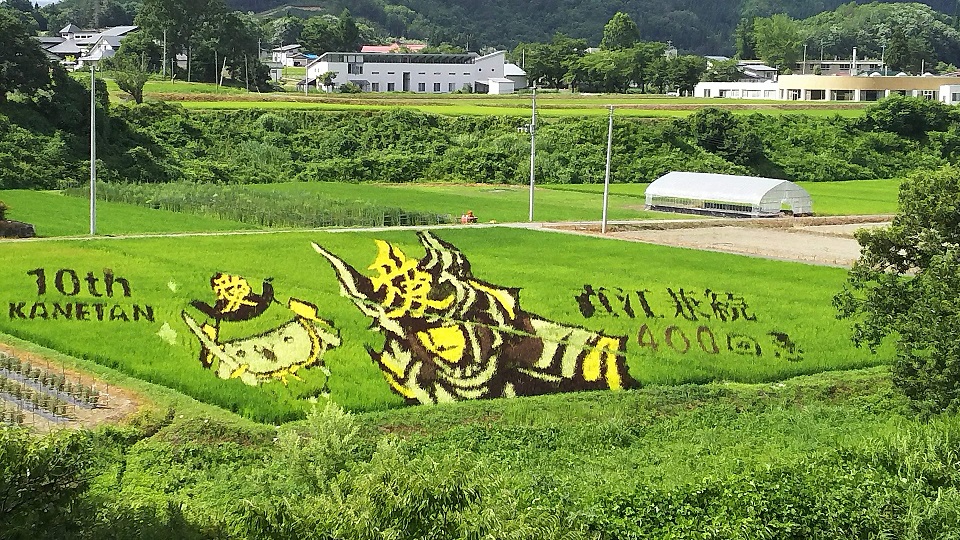 It is art in rice field!
Rice field art of Yonezawa-shi reached in full bloom!

In 2018, long-cherished; serve, and draw sputum!
We invite public participation this time secondary to last year, and "we serve, and mascot character of Yonezawa-shi to invite elected "Kanetsugu Naoe 400 anniversary of death" (creator: Hiroaki Ito (Yonezawa-shi)) and debut tenth anniversary to from nine entries describes sputum".

Until Sunday, September 30 when we will cut rice from now on, and experience is carried out
We can observe from observation deck nearly Onogawa Onsen.

Please enjoy with staying in hot spring, day trip bath.
You cut rice on September 30, and please participate in experience.

From observation deck to install figure which rice grows up into quickly and healthily in hill
Can overlook, and from the Internet live image
You can see anytime.

In addition, you can see past picture.

Rice field art Yonezawa homepage
 http://www.tanbo-art .com



<< sponsor >>
 Experience-based business promotion meeting made with rice field art rice

Onogawa Hot Springs Sightseeing Council
Onogawa Onsen sightseeing intellect executive committee
Association of general Yonezawa sightseeing convention
Sightseeing in Yonezawa-shi campaign promotion meeting
Yamagata Okitama agricultural cooperative
Yamagata Okitama agricultural cooperative Yonezawa district youth group
Misawa community center
rushiore Onogawa
Yonezawa City elementary school in eastern Misawa
Yamagata Prefecture Okitama synthesis Subprefectural Office industry Economic Department farming technique spread section
Yonezawa-shi, the Yonezawa-shi Board of Education

<< the secretariat, reference >>
〒992-8501
 5-2-25, Kanaike, Yonezawa-shi, Yamagata
 Yonezawa-shi government office industry department agriculture and forestry section
 Telephone: 0238 (22) 5111 extension number 5006
 FAX: 0238 (24) 4541
2018.07.31:
Thank you very much for you seeing our site. General Yonezawa sightseeing.
Search of Yamagata Reviews information