[latest] Point of Tengendai, Mt. Nishi Azuma colored leaves situation 10/23 west Azuma sky valley regulation information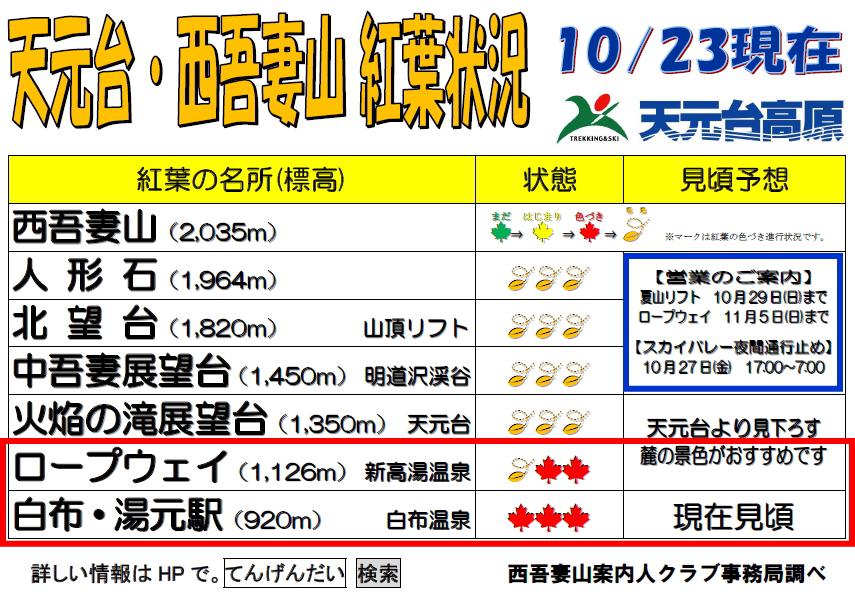 [west Azuma sky valley seasonal regulation information]
Suspension of traffic (17:00 ~ 7:00, the following day) night on 10/27 Friday than 17:00
It is winter season suspension of traffic than 17:00 on 11/10 Friday
※In the case of moving up, there is by the situation.
■We reprint colored leaves situation dispatch of Tengendai Kogen. (we update once in a few days)■
Season seems to be around five days faster than average year early.
850m above sea level Shirabu Hot Springs
1,126m above sea level Shintakayu Onsen
1,350m above sea level Tengendai Kogen
2,035m above sea level Mt. Nishi Azuma
Tengendai Kogen official site
2017.10.24
This frontier ... story last in space ... there with such a large space.
Search of Yamagata Reviews information