Uesugi Museum collection exhibition first public exhibition "document which recites perfect gem and the local history of person of Uesugi connection"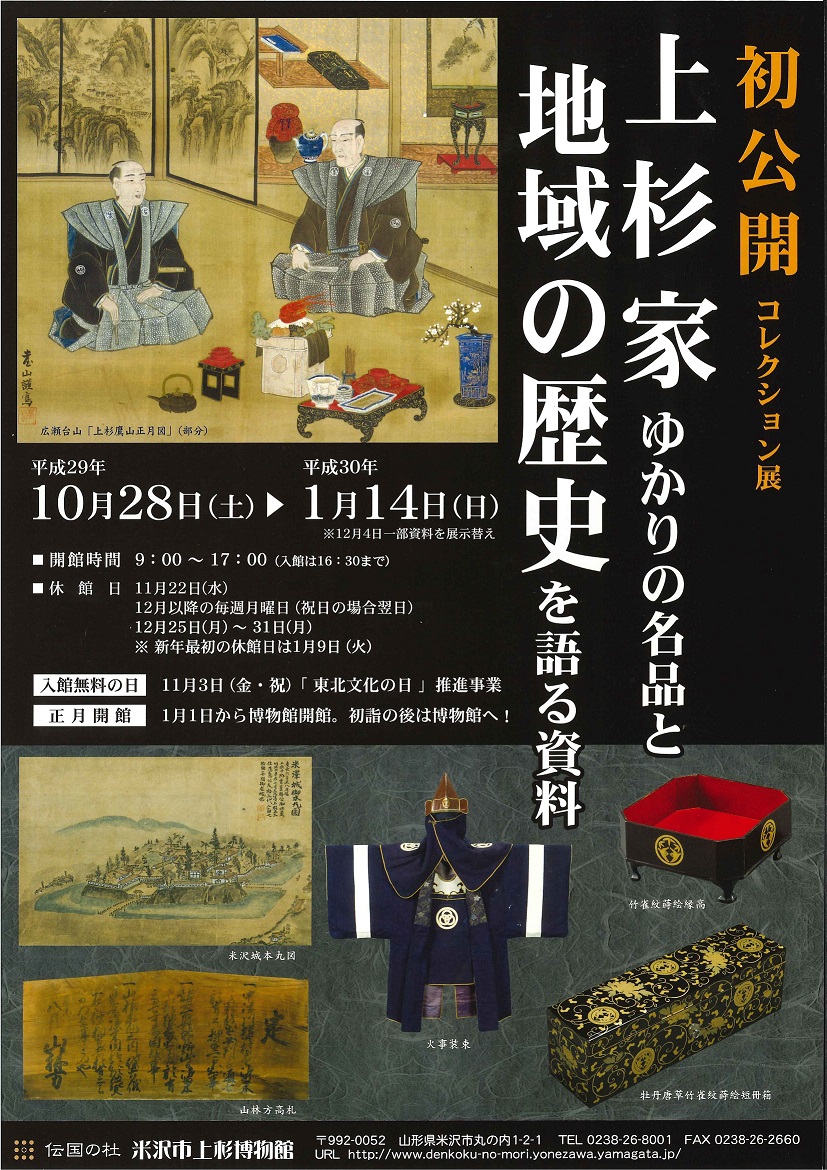 Uesugi Museum collection exhibition 
"Document which recites the first public exhibition Uesugi perfect gem related to house and local history

Session: From Saturday, October 28, 2017 to Sunday, January 14, 2018
[Closed] Wednesday, November 22
    Monday (in the case of holiday the next day) after Dec
    From 25 to 31 on December
    ※We are opened on January 1 for New Year holidays.
    It is Tuesday, January 9 for the first closed days in the New Year.

Admission charges public 200 yen (160 yen) high very much straight 100 yen (80 yen)
    True 50 yen (40 yen) in the small
    ※(groups rate more than 20 in)

Culture Day promotion business northeastern on Sun Friday, November 3 when admission is free
We open museum on opening January 1 for New Year holidays.
       Come to museum after New Year's visit to a Shinto shrine


As new store product exhibition since 2006 among exonumia for ten years
Mainly on history document, we display all document of the first public exhibition.

Local person of Uesugi and Yonezawa, Okitama by donation and the purchase at museum
Artworks of writer from history document, industrial art object, native district of connection,
We try for collection of life documents.
The quantity comes up in approximately 10,000 cases only in the past ten years.
On the other hand, by progress condition of relations and rearranging, investigation into display theme,
There are a lot of documents which we were not blessed with at display opportunity until now.
At this exhibition, display these unscreened documents, after December 4
We perform display substitute of some documents under the theme of "we greet the New Year".
 Furthermore, we usually see while being basic role of museum
It is ・ collection (donation, the purchase), rearranging, list of document with a few things
We introduce preservation, repair.

Valuable rare document which does not come to museum if you look at this exhibition
But, it was said whether you met whether you did such work in the backside
New discovery and mind zukigakitto about museum and the local history
There will be


2017.10.24:
Thank you very much for you seeing our site. General Yonezawa sightseeing.
Search of Yamagata Reviews information