Holding of 2018 "Takahata sakishokugaku (cherry tree) festivals"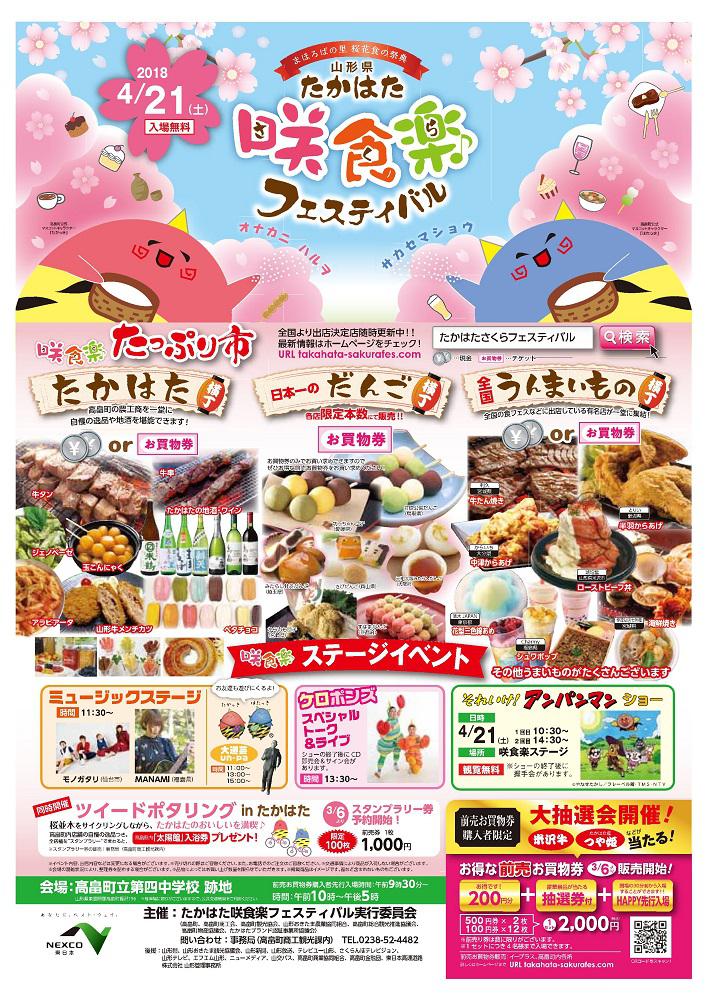 ↑↑Events Details, time schedule are this↑↑

Spring Events of Takahata
"sakishokugaku (cherry tree) festival!"
Saturday, April 21, 2018 holding

National delicacy, delicacies of Takahata gather this year.
And speaking of "spring" "cherry blossom viewing." Speaking of "cherry blossom viewing" "dumpling!"
Dumpling bystreet where national famous dumpling person links the eaves is held this year. We look forward to visit.


[advance sale shopping ticket information!]

We sell advance sale shopping ticket that shopping on the day becomes advantageous.

This shopping ticket,
Lottery ticket which shopping ticket for 2,200 yen and luxurious prize hit,
HAPPY precedence admission ticket which we can enter for 30 minutes of the opening
We are bundled and sell for 2,000 yen.

200 yen is more advantageous than usual! As for the chance when premium is also!
Please buy!

●The sale starting date: Tuesday, March 6
●Sale place: E plus, each site in the town (each district public hall, commercial and industrial meeting, Taiyo-kan stand, Roadside Station Takahata, Yoneori Center, TAKAHATA WINE, each store)

2018.03.05
In sightseeing information and Events information, history, gourmet of Takahata-machi, Yamagata, Takahata-machi including spa hotel.
Search of Yamagata Reviews information