★Taste gives up; "lunch of this week? ?"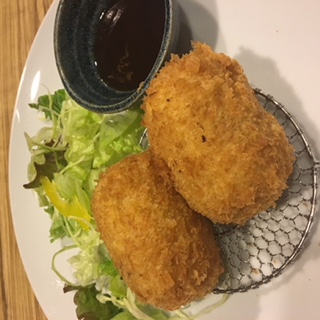 ●Thank you for having you look forward to taste yoshino lunch♪
As menu changes every week, we ask customer that it is come to the store about "thing which we want to eat"♥
Then at request "after all one of fish!" This "is western dishes somehow? There is much hope that we want to eat toka! (laugh), wa, knew!
It is ... new menu appearance this week by saying this!
○Prawns tempura bowl      800 yen Japanese yen (specially made sauce is super delicious! Popular in this!)
○Recommended fresh fish bowl 900 yen Japanese yen (if we die taste and come, at first it is sea food!)
○Japanese-style croquette set meal 800 yen Japanese yen (please with this, by all means grated ponzu vinegar!)
○Fried meat cake set meal 800 yen Japanese yen (for juicy freshly-fried taste by all means ~ ♥)
We wait at noon!
※Photograph is Japanese-style croquette!
2018.03.06
"We do sum set taste" is Naka with creation dishes using seasonal ingredients from riches of the soil to seafood.
Search of Yamagata Reviews information