[in "thin skin-maru doing zuke" reservation reception desk]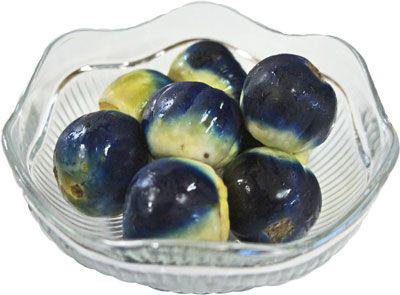 In Nagai-shi, rain, cherry tree of day after day are gone and feel slightly lonely.
On the other hand, we forecast fine weather of day after day toward Golden Week,
We will gradually reach warm season from now on (*^-^*)/

Is it not appeared though we want to eat by season?
We want to eat this when it becomes hot…
"Thin skin-maru doing zuke" which is famous as summer taste of Okitama is one?
Shipment of house cultivation thing begins earlier.

We pickle in thin skin-maru nasuo of house cultivation, exquisite seasoning♪
In fact, color is beautiful softly, too; glossy + (0 ゜・∀) +
It is juwa and exquisite saltiness from crispy resistance to the teeth, soft flesh…

With rice to snacks of to tea cake and liquor.
It does not stop when we begin to eat.
Please appreciate♪

We prepare two kinds of entering bottle and entering bag.
[entering bottle (two)]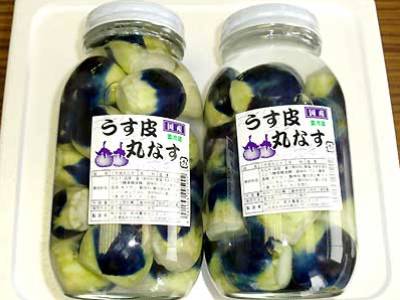 [entering bag (five bags)]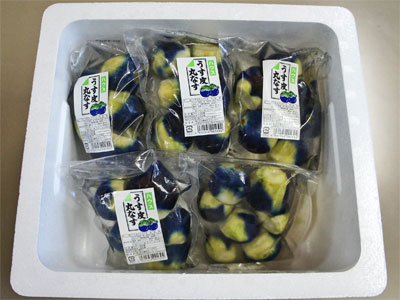 ☆Request of house cultivation thin skin-maru doing zuke is this☆
※This is thing of house cultivation, and delivery is due to begin from about the middle of May.
 Thing of outdoor culture becomes delivery from about the end of August.

[this article is blog of long fan club]
☆E-mail magazine is delivered to member of fan club every month on 1st, 15th♪
▼Application from this!


2018.04.25:
About sale time of Russian products of the district-maru eggplant
Good evening. We are always looking forward to Nagai fan club communication. By the way, selling by subscription of Russian products of the district-maru eggplant begins in about June in average year, does it have not yet come this year? As mother is looking forward to the pickled circle eggplant, we are thankful when we tell sale time. Thank you in advance.
Always thank you for your support.
More than 30 degrees Celsius, it is boiled Nagai-shi day after day. We are glad that we have you favor taste "thin skin-maru doing zuke" with oldness. The Russian products of the district of this year become sale from the after the Bon Festival end of August. It becomes shipment that is slightly slower than average year, but would appreciate your enjoying circle nasuoo of house cultivation till then. In plan of "Nagai Dance Parade", ayame Festival became the end game, too, but blue flag is in full bloom still more this weekend. Please come to Nagai to play if there is opportunity.
Circle eggplant
Search of Yamagata Reviews information