Guidance of GW Mezami Festival Events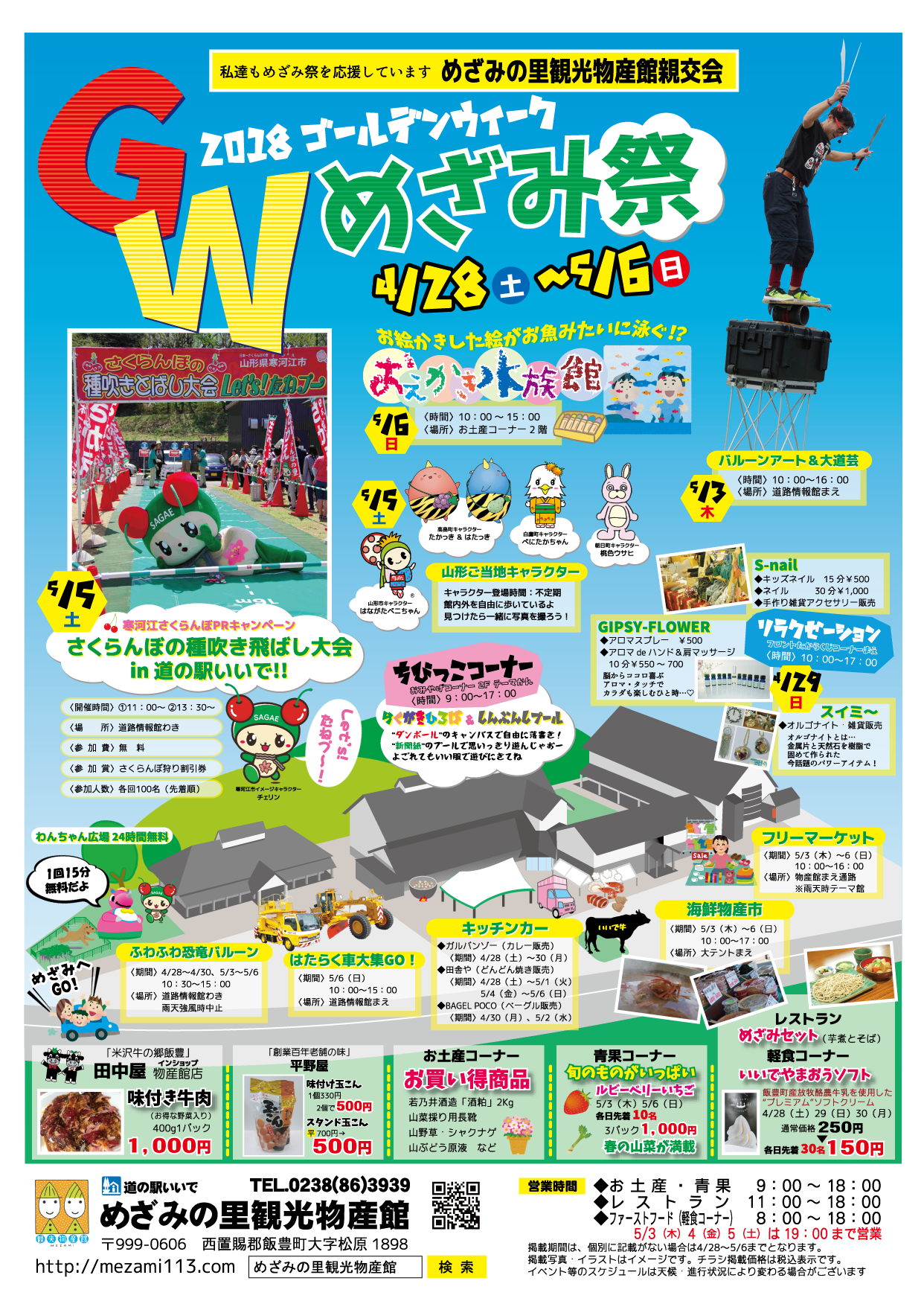 Entertainment of Roadside Station "Iide" Mezami no Sato tourism product building GW5/4 ~ 5/6
Friday, May 4
 ●~ is irregular at street performance performance & balloon art <road information building ago open space> 10:30
  Three emergency! Secondary to Thursday, May 3, [enjoyment Joy] of pantomime & comedy appears! There is balloon art present of Yamadai jag ring circle, too
Saturday, May 5
 ●It is 30 ~ 00 ~ �13 Sagae Sankurambo PR campaign <road information building is heated> �11
  [we dispel, and kind of Sankurambo has good meeting in Roadside Station] We hold this!
  Entrance fee is free by each 100 time first arrival. Che Lin comes for support, too. It is challenge, let's seed Pooh for record!
 ●Yamagata here character gathers <the hall inside and outside>
  ・[hanagatabenichan] Yamagata-shi
  ・[takakki & hatakki] Takahata-machi
  ・[benitakachan] Shirataka-machi
  ・[pink usahi] Asahi-machi
  ・[we serve and deplore] Kenji Naoe mascot character
Sunday, May 6
 ●Chase; persimmon aquarium <the second floor of the Gifts section theme building> from 10:00 to 15:00
  Fish which performed drawing swims like genuine article?
 ●Collection of working car sizes GO! It is from 10:00 to 15:00 <road information building ago>
From Friday, May 4 to Sunday, May 6
 ●Little child corner <the second floor of the Gifts section theme building> from 9:00 to 17:00
  We scribble on corrugated cardboard freely [taking the ease comes open space]
  In pool of newspaper [do newspaper, and pool]
 ●Flea market <inner hall in strong wind, rainy day> from 10:00 to 16:00
  Chance to find lucky find and favorite including clothing and handmade miscellaneous goods!
 ●Seafood product city <marquee ago> from 10:00 to 17:00
  Seafood delicacy and thick crab stew, delicious thing full loading [coastal highway product] including steamed oyster
 ●Kitchen car <marquee ago>
  Popular [the country], motchimochinodondon firing comes over
2018.05.03:
Taste seasonal in Iide Roadside Station "Mezami no Sato tourism product building" along Route 113.
Search of Yamagata Reviews information