Guidance of wild plants Festival Events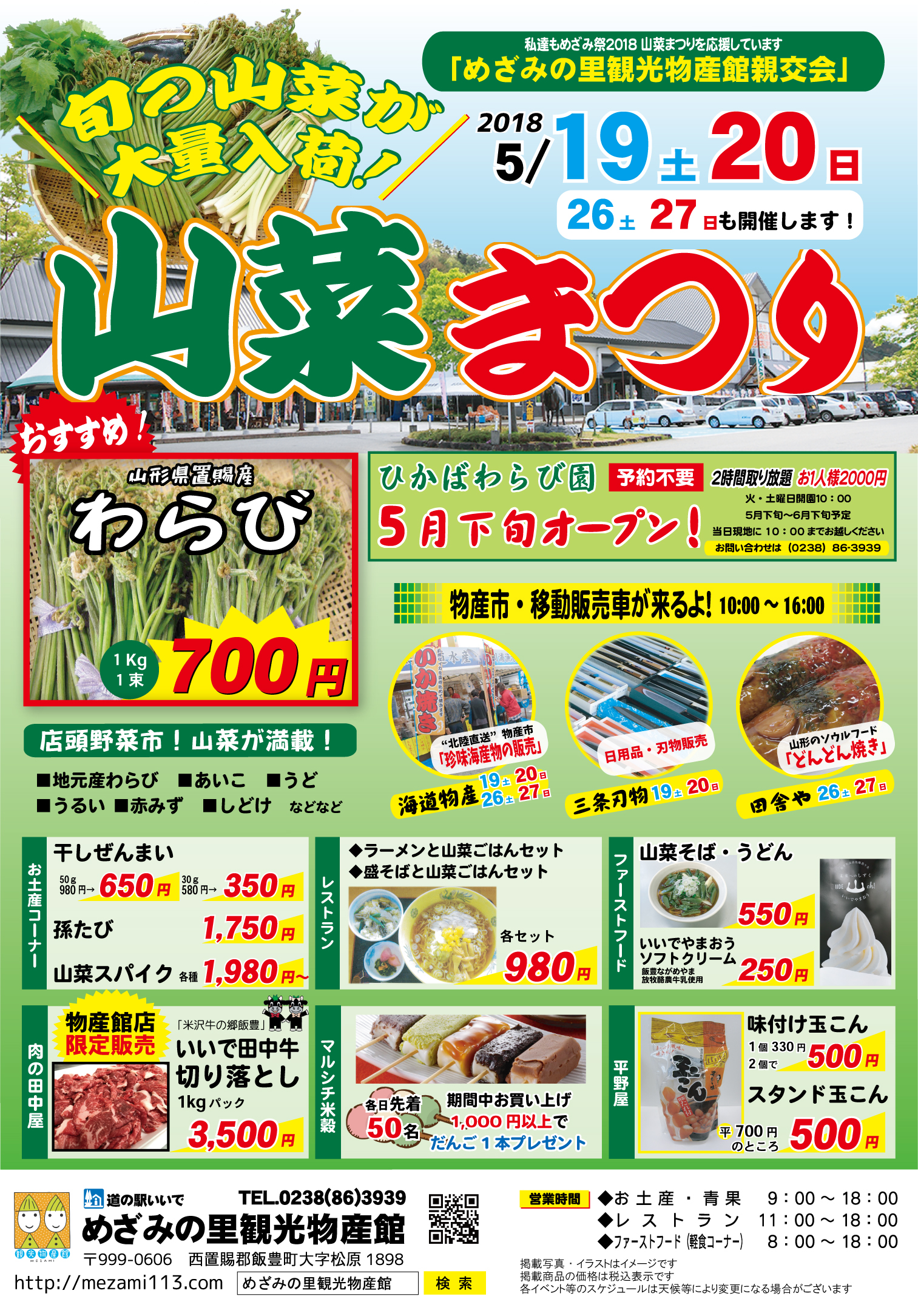 We do it this year! Wild plants Festival!
Date Saturday, May 19, 2018, 20th Sunday
<Time> 9:00-18:00
Bracken (warabi) and Laportea macrostachya (aiko) from hometown,
We have a lot of seasonal wild plants including Udo!
In addition, bargain products are varied
We are looking forward to seeing you on site.
2018.05.13:
Bargain products are varied!
[Tanakaya of meat]
Limited sale in product building!
Beating down the opponent's bamboo sword and giving him a men (1 kg of pack) 3,500 yen of Iide Tanaka cow

[Hiranoya]
・Seasoning ball does not come
 One 330 yen → 500 yen for 2
・Stands ball does not come
 Normal 700 yen → 500 yen

[Gifts corner]
・Dried Osmunda japonica (zenmai)
 (50 g) Normal 980 yen → 650 yen
 (30 g) Normal 580 yen → 350 yen
・Grandchild tabi 1,750 yen
・A lot of wild plants spikes 1,980 yen
How about meal, too?
[marushichi rice]
50 people-limited the first in every day!
More than 1,000 yen during period to customer of purchase
Dumpling one present♪

[fast food corner]
・Sansai soba, udon 550 yen
・Mt. Iide ice-cream cone 250 yen to chase

[restaurant ~ noisily palette ~]
・Set of ramen and wild plants rice
・Set for each 980 yen of Mori soba and wild plants rice

In addition, we hold products City such as coastal highway product or Article 3 knife!
Come by all means!
Taste seasonal in Iide Roadside Station "Mezami no Sato tourism product building" along Route 113.
Search of Yamagata Reviews information