[herb garden fair] 2018 information full loading
It is held for from June 16, 2018 to July 8
[Okitama Park herb garden fair 2018] Flyer was completed of this!
A lot of plans including this year lunch menu and workshop for a limited time.
As for every common usage, held Sun [knob collecting, craft experience]

This year is Water Shield Picking of herb in garden, too
(including lavender a lot of carefully selected herb in garden)
We pick, and craft experience using herb is possible.
※Sun of stormy weather
By the situation of herb becoming materials
Case that we cannot recommend the making of craft
There is.
Talk each time, but yamoezu
There being cancellation and possibility judging
Forgive.
Contact 090-3360-1688
Kawanishi Town Tourist Association: Carrying

[herb garden fair] For a limited time
Lunch menu of cooperation shop must see it!

Have restaurant of Kawanishi-machi cooperate, as Special Menu using herb
We provide at each store.
Let alone limited menu out of this fea,
Classic lunch menu is full of quite popular well-known stores, too. 
As number is limited and we line up and may have to wait
Anxious person about the situation and Details of seat
You pass directly, and please refer to shop.
(madokasanha reservation is not possible. We become guide in visit order.)
We take this↓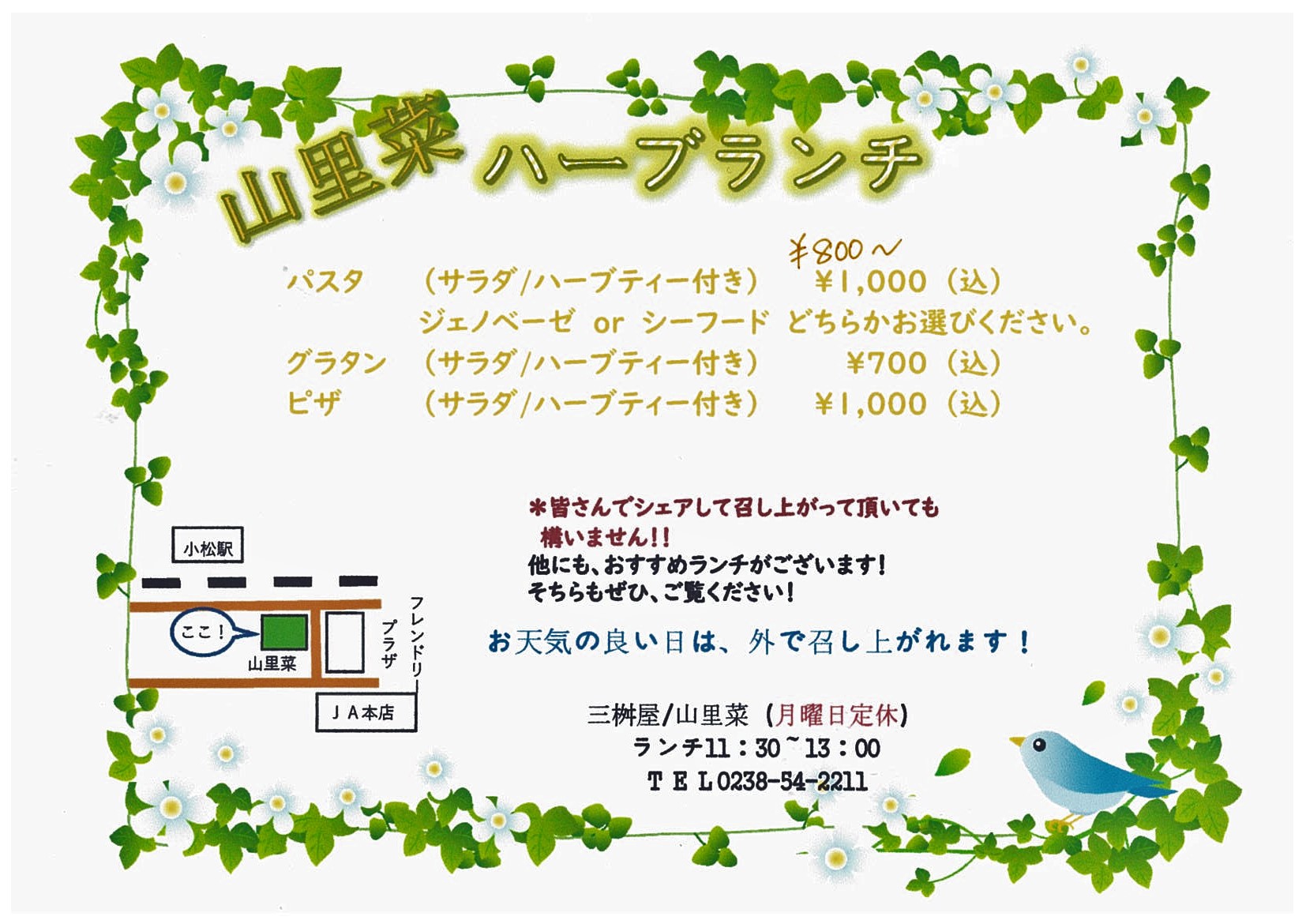 Sorry to have kept you waiting very much!
It is workshop of this year.
Workshop needing reservations, please call tourist association early.
Kawanishi Town Tourist Association: TEL 0238-54-1515
(weekdays from 8:30 to 17:00)
We are raising entries very much still more! 
We wait for participation!
2018.05.25
It is the southern part of Yamagata Prefecture, tourist association of Kawanishi-machi in Okitama (Okitama) district. Bra.
Search of Yamagata Reviews information