News of 2018 third tomato Festival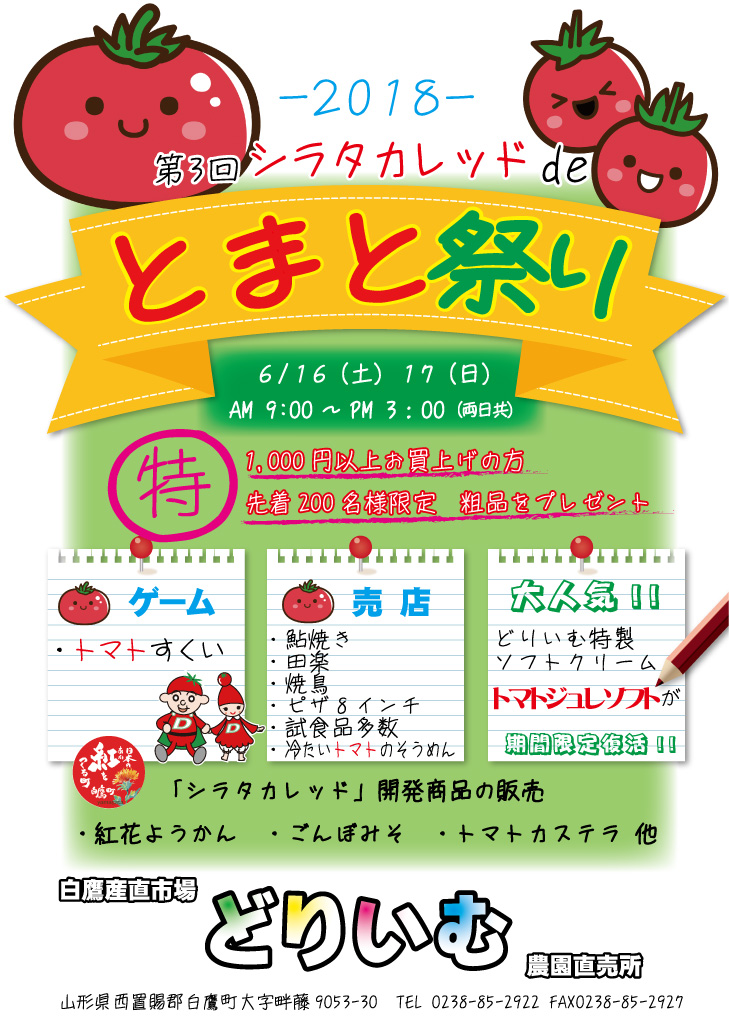 From Shirataka direct marketing market doriimu Farm direct sale place to treat seasonal farm products of Shirataka
We carry corner of silahawk red and are news of Festival of "tomato".
The third silahawk red de "tomato Festival"
<Date and Time>
Saturday, June 16, 17th Sunday
From 9:00 a.m. to 3:00 p.m.
<Location>
doriimu Farm direct sale place
9053-30, Kurofuji, Shirataka-machi, Nishiokitama-gun, Yamagata
TEL 0238-85-2922
Details
Privilege: We present small present only in purchase first arrival 200 people more than 1,000 yen!
Game: We save tomato
Stand: Sweetfish firing, dengaku, Yakitori, pizza, a lot of samplings, somen of chilled tomato
Others: Revival tomato jelly software for a limited time
nado
2018.06.15:
We send sightseeing information of Shirataka-machi. Safflower, autumn are komori in spring in sweetfish, winter in cherry tree, summer.
Search of Yamagata Reviews information