[7/17, 18.19] Tendo hotel beer Festa 2018 holding!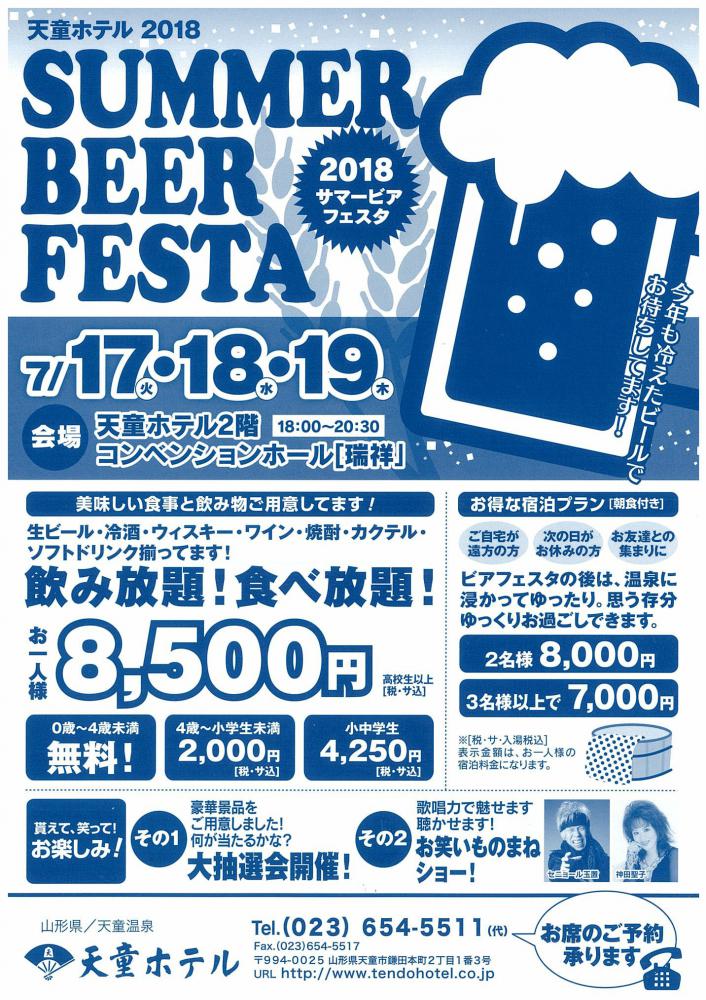 We hold common usage, grand Events "summer via Festa 2018" of summer this year every year!
It is July 17, 18th, three days on 19th this year.
Drink including draft beer is served without limit! Japanese, Western and Chinese buffet all-you-can-eat! It is beer Festa of this.
There are popular sushi section and live kitchen corner including yakisoba!
We prepare for show time by two guests and great lottery★
Let's swell together in summer night when beer is delicious!
We look forward to visit of much one.
It is in ticket favorable reception reception desk!
■Details■
The date: July 17, 2018, 18th, 19th
<Time> From 18:00 to 20:30
<Location> The second floor of Tendo hotel convention hall "auspicious sign"
Admission 8,500 yen, primary and secondary student 4,250 yen, less than 4 years old ~ primary schoolchild 2,000 yen, under 4 years old are free more than high school student
<Contents>
★All-you-can-drink [draft beer / unwarmed sake / whiskey / wine / shochu / cocktail / soft drink]
★All-you-can-eat [Japanese, Western and Chinese buffet]
★Great lottery holding that luxurious premium is!
★Mimicry show is held! [senor Tamaki] [Seiko Kanda]
――――――――――――――――――――
■You can just stay after the beer Festa! (plan per night with breakfast)
 ・In the case of room for 2 people  :8000 yen per person
 ・More than three people in the case of one room: 7000 yen per person
――――――――――――――――――――
※The above price is all tax-included indication
▼Ticket purchase / inquiry
Tendo hotel TEL 023-654-5511

Accommodation Tendo Hotel formal HP of bimimotomeshin
http://www.tendohotel.co.jp/
2018.06.16:
It is the latest facility by the accommodation of Tendo Hot Springs maximum. May, 2015 renewal! sankai*.
Search of Yamagata Reviews information