It is that for grape picking from the beginning of September to the middle. That it (laugh)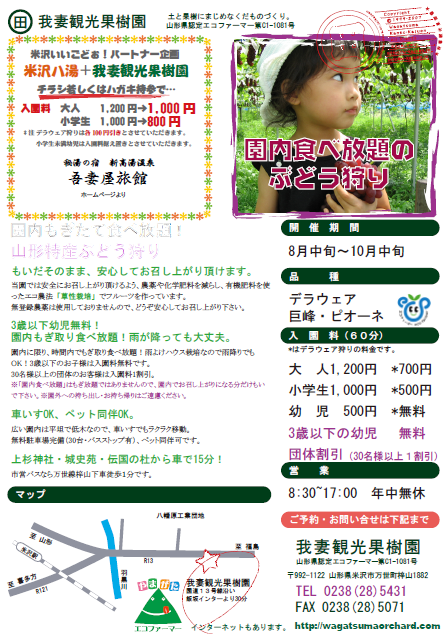 It is right the Cherry picking golden age now for from the middle of June to the end
It is it of you and me called ... "grape" than "Sankurambo" (laugh)
Besides, it is Kyoho or large drop of system of pione.
All-you-can-eat in that which is enough for dessert in one drop, two drops in 1 bunch, 2 bunches orchard!
We want to eat grape to the full! Grape picking that I called this imaged
It was small grains system of Delaware. It is that of large drop of system to betray it.
Of course as there is time of Delaware of small grain system enthusiast, too, the neighborhood
It is story after we confirm well.
Bag is covered one bunch, one bunch serious matter with, and it is said, "please adopt eating"
We want to introduce that we experience 60 minutes to person by all means! But oneself ... (laugh)
It was notice of ~ as things mentioned above in next of Cherry picking, grape picking September.
2018.06.16:
This frontier ... story last in space ... there with such a large space.
Search of Yamagata Reviews information