[new sale] U.S. crane super hot Junmai Dai-ginjo Sake (sold out for 2018)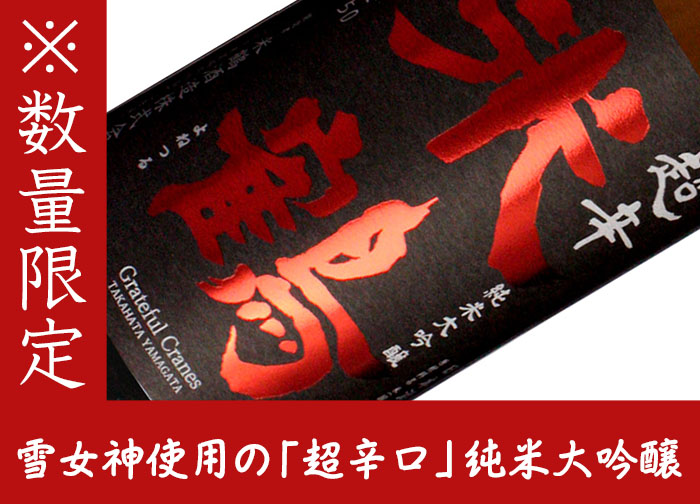 << 9/27 postscript >>
Because of favorable reception, all for production of 2018 became sold out. We give thanks.
Junmai Dai-ginjo Sake of "super hot" that we taught in "snow fairy God", release start!
■About snow fairy God
"Snow fairy God" finds kind suitable for the training of liquor of large quality sake brewed from the finest rice class,
We spend long time and are new liquor rice which Yamagata Prefecture developed.
We have features suitable for Dai-ginjo Sake structure that high rice cleaning rate becomes condition,
Expectation is held very much.
This Junmai Dai-ginjo Sake in liquor using snow fairy God
It is large quality sake brewed from the finest rice which we still fitted with "super hot" with a few kinds.
While having sweet-smelling fragrance, profit of rice well,
Please appreciate taste that refreshing sharpness only by super hot is improved.
※This product becomes limited number of products.
When it is sold out, we would appreciate your understanding.
Taste comment ________________________________
Piece is good while being able to enjoy taste that we did well because we are super outspoken,
It is liquor which it is easy to match with meal.

___________________________ which we recommend to such a person
・To person who wants to try liquor which we fitted in "snow fairy God!"
・To person to "like hot speaking of sake!"
Brand name
U.S. crane super hot Junmai Dai-ginjo Sake
Raw materials rice
100% of Yamagata Prefecture product snow fairy God
Rice cleaning rate
50%
Alcoholicity
15%
Sake degree
+ 8 (super hot)
The acidity
1.45
Yeast
Association 701 yeast
Retail price desired

| | |
| --- | --- |
| 1,800 ml | Sold out |

Voice _________________________________ of customer

2018.09.27:
It is origin of brewing of Takahata-machi, Yamagata nomahorobano sake brewery "U.S. crane" (yonetsuru). Of the U.S. crane.
Search of Yamagata Reviews information