It is Marine Day Mezami Festival 2018 holding!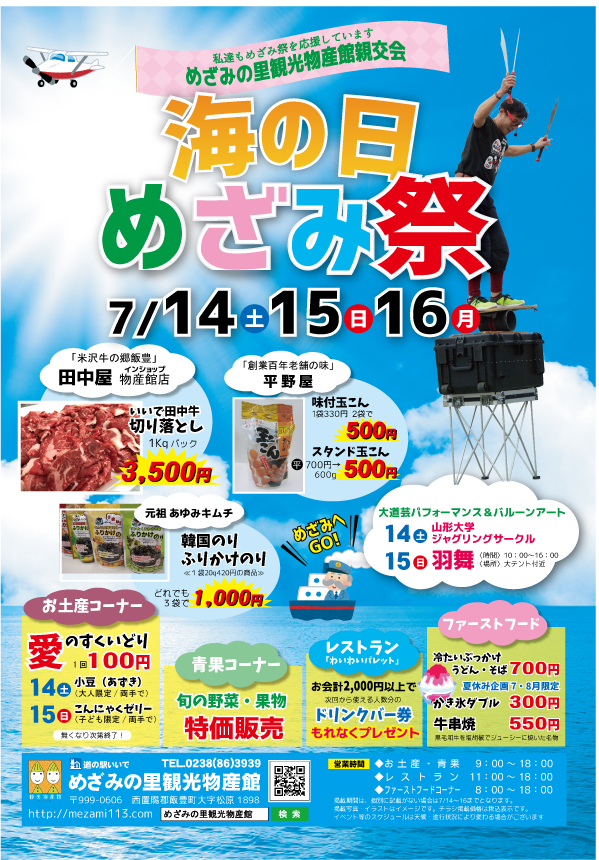 We hold "Marine Day Mezami Festival 2018" in Roadside Station Iide Mezami no Sato tourism product building in venue in 3 consecutive holidays on 14,15, 16th in July, 2018! Performance of jag ring by all of Yamagata University jag ring circles, it is performance of street performance by feather Mai for pantomime, 15 days by enjoyment Joey and, on 14th, looks forward to your coming this year! Besides, Lily's cafe visits only in 14th! 14, 15, 16th Article 3 cutler visit! In addition, we take one-limited Events of 14th, adult, scoop of adzuki bean! 15th, child-limited Events, scoop collecting of konjac jelly! Both are in a limited quantity and are 100 yen once. Please early! It is shine muscat at fruits and vegetables corner! It is going to be received! We present drink station ticket which you can use next time in 2,000 yen or more without exception at restaurant. Chilled Bukkake soba, udon is 700 yen at fast food corner! Chipped ice double is 300 yen how! Grilled cow skewer 550 yen! It is only thing which is recommended in summer that is hot in this! There is still more! "Iide Tanaka cow beating down the opponent's bamboo sword and giving him a men 1 kg pack" which is very popular with the last time is 3,500 yen in Tanakaya in-shop product building shop of meat! It is 500 yen with two bags for one bag of seasoning coin normal 330 yen not to come of Hiranoya! For normal 700 yen 600 g notokoro 500 yen that stands ball does not come again! Please use in Gifts!
2018.07.13:
Taste seasonal in Iide Roadside Station "Mezami no Sato tourism product building" along Route 113.
Search of Yamagata Reviews information