"Japanese paper butterfly wedge picture exhibition" is held♪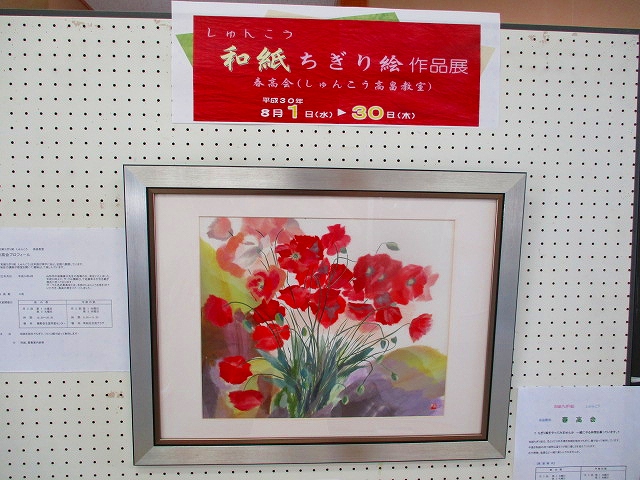 Display in hall of August
 
Of "spring high meeting (completion Takahata classroom)" which tears off in Takahata-machi, and is made classroom of picture
Although members were a pleasure, we displayed 35 points of made works,

It is "completion Japanese paper butterfly wedge picture exhibition".


We tear off colorful making paper by hand Japanese paper at finger-tip and we paste and produce.
Unique warmth to have of making paper by hand Japanese paper adds gentleness to painting.

Please see flower and still life, many splendid works including scenery by all means♪


From Wednesday, August 1, 2018 to Thursday, August 30
From 9:00 to 17:30
2018.08.01
😊 where we were impressed by
We came to Takahata the other day only after looking at stonepit on TV.
We will go to Roadside Station with much effort ♪ We dropped in in this and knew exhibition.

It is wonderful and is surprised at all works!
If there was work tender with moisture utilized feel of a material of Japanese paper, there was very powerful powerful work, and let see to pretty work and stylish thing not to think at all of to be Japanese paper by POP happily at all.
See toward the situation by all means; teitadakitaina 
Thank you for wonderful work!
Search of Yamagata Reviews information