U.S. crane purely U.S. home brew hiyaoroshi [8/23 new sale!]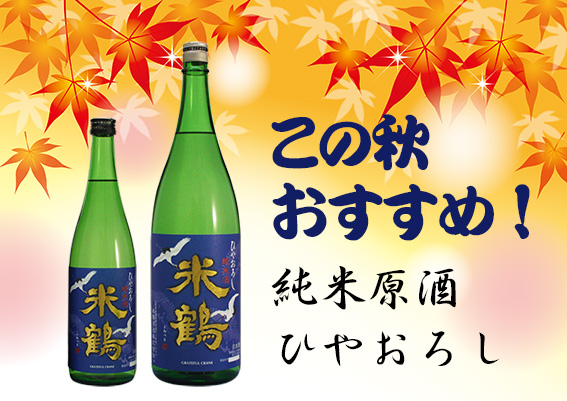 We sell newly on Thursday, August 23!
※This becomes limited number of products※

We finish sale as soon as product disappears.
We would like inquiry you want early.
※9/19 postscript
Because of favorable reception, 720 ml of size became sold out.
Please find 1.8L size on order.
In home brew of pure mijiu which we squeezed in the early spring, we mature in refrigerator for summer.
It is "hiyaoroshi" where there is taste on while there is refreshment.
◆Raw materials rice
Local liquor U.S. production of U.S. cranes farmhouse is use "shiningly Dewa" "village of Dewa" which we cultivated.
◆Point
With rice cleaning machine to own in Yonetsuru Sake Brewery, we polish up to 65% of rice cleaning rates carefully,
Pure mijiu which aroused taste of rice carefully.
Fill bottle
with this pure mijiu
as "
home brew
" which can enjoy reliable taste,
It
is
"
purely U.S. home brew nohiyaoroshi
" which
let you mature in refrigerator calmly during summer
.

Taste comment ____________________________
Quiet soft profit to spend summer, and to come to by having let you mature.
Light seasoning covers dishes of strongly-flavored seasoning widely and is most suitable for liquor during meal.
Please have in conjunction with seasonal ingredients and favorite dishes.
_______________________ which we recommend to such a person

・Person who is looking for seasonally limited article
・Person who is looking for home brew
Brand name
U.S. crane purely U.S. home brew hiyaoroshi
Raw materials rice
Dewasansan , Dewa shiningly
Rice cleaning rate
65%
Alcoholicity
17 degrees
Sake degree
+ 1
The acidity
1.7
Yeast
Secrecy
Retail price desired

1,800 ml
2,400 yen (tax-excluded)
Voice _________________________________ of customer
2018.09.19:
It is origin of brewing of Takahata-machi, Yamagata nomahorobano sake brewery "U.S. crane" (yonetsuru). Of the U.S. crane.
Search of Yamagata Reviews information