[during colored leaves information update] Colored leaves information 2018 of Tengendai, Mt. Nishi Azuma ■The point of 10/22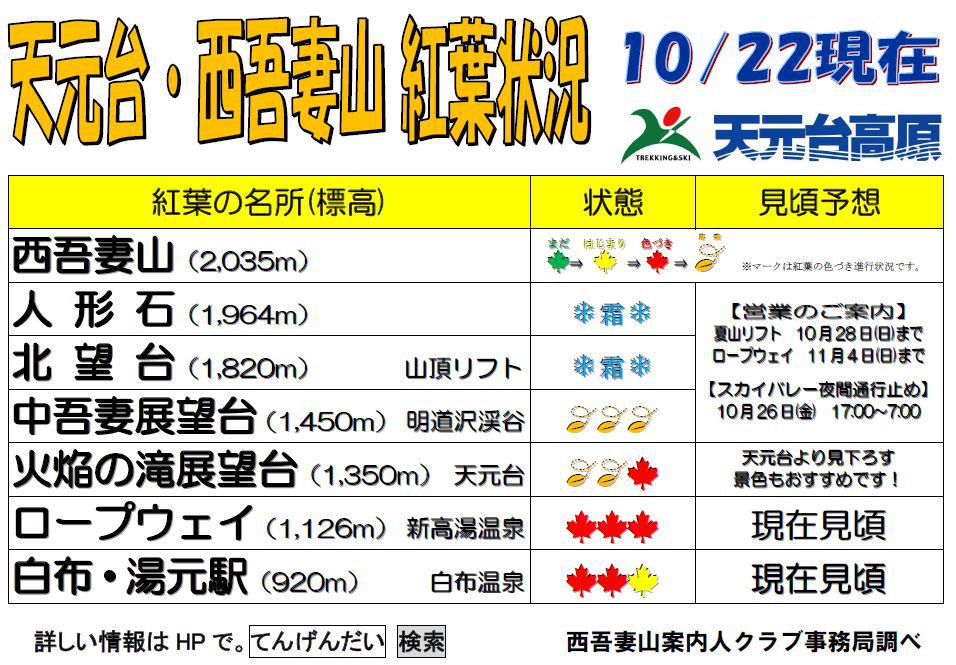 We show around colored leaves information from "Tengendai" this year.
 ~ which feeds information that came from the ~ left to the right
After keeping careful statement in mind as follows, it is description of good futurology of reputation.
[careful statement]

Only 1,126m above sea level answers.

We can confirm color with the daybreak from about 6:00 a.m. on October 7.

In the situation to "turn red" even if anyone sees at noon on October 12.

We belong under state in 10:00 a.m., "in full bloom" on October 16.

We reach "the height" at past 16:00 on the evening of October 21.

We begin being scattered on the early morning of October 23

Colored leaves that I thought that we reached the end at 14:11 p.m. on October 26.
    Peak that extra leaf disappears, and, in fact, is the most beautiful on that day.

Do not say that was finished as for the colored leaves season at 16:00 p.m. on October 28; do not obtain.

The above the situation of average year and atmosphere of this year to one cup of teaspoon of large panful
We added delusion and calculated.

As thoradams
2018.10.22:
This frontier ... story last in space ... there with such a large space.
Search of Yamagata Reviews information