["bystreet art session 2018" is held]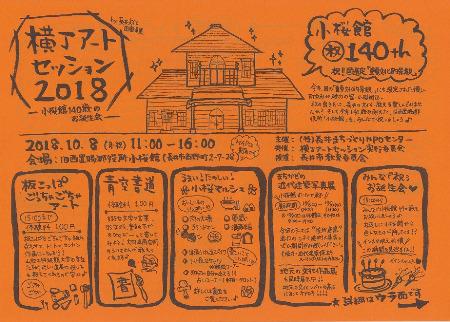 He/she pleases town walk with device which is surprise every year
"Bystreet art session" is held this year.
Serve as celebration of former Nishiokitama-gun government office "small cherry tree building" to reach 140 years old this year this time,
We seemed to be planned as Events offering culture, the history of Nagai.

In Health Sports Day, please enjoy in whole family.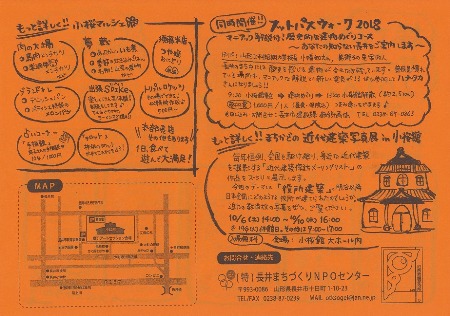 ~ bystreet art session 2018 ~
<Date and Time>  : October 8, 2018 Monday (holiday) from 11:00 to 16:00 
Venue:  : Former Nishiokitama-gun government office small cherry tree building (2-7-28, Kouyacho, Nagai-shi)
Entrance fee : No charge for admission
<Contents> : ○Board koppagotchagocha art (experience charges 100 yen)
     ○Blue sky calligraphy (experience charges 100 yen)
     ○Small cherry tree Marche (delicious shop, pleasant shop 8 store!)
     ○Wait; culture exhibition of modern architecture photo exhibition & hometown of corner (free)
     ○We celebrate together! Birthday party (15:00 ~)
Contact  (*) Nagai town planning NPO center
TEL 0238-87-0239 MAIL otksogei@jan.ne.jp

[this article is blog of long fan club]
☆E-mail magazine is delivered to member of fan club every month on 1st, 15th♪
▼Article, application in front from this!


2018.10.06
Search of Yamagata Reviews information