News of shiratakano four seasons calendar 2019 beginning to sell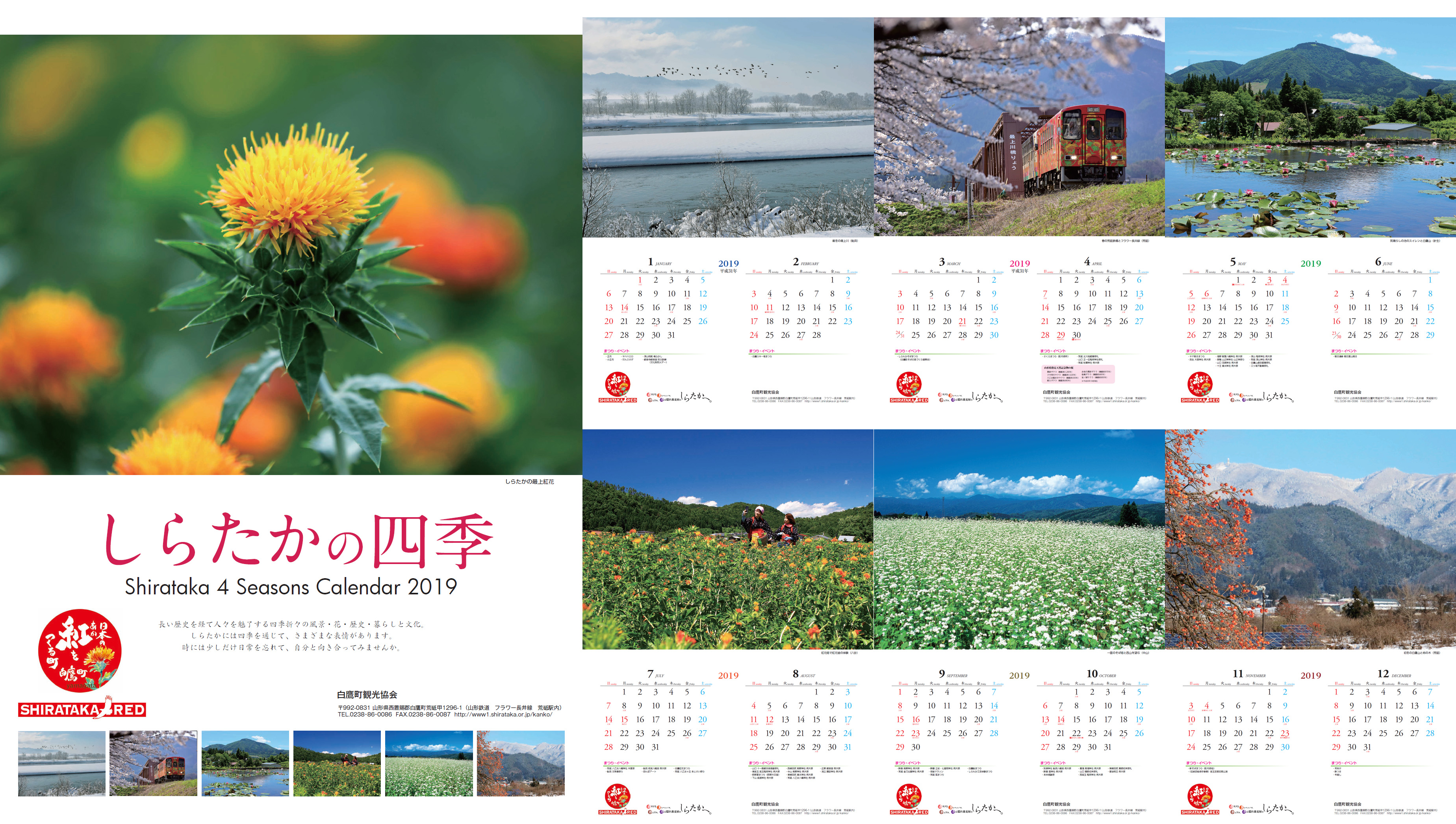 Sorry to have kept you waiting.
It is release of version for 2,019 years in the annual calendar "shiratakano four seasons"!
From photograph of photograph lovers inside and outside the town which knows excellent spot of Shirataka-machi well this year
We introduce photogenic nashiratakaogo coloring the four seasons.
Please buy!
Do you purchase the purchase directly at handling place in the town block?
Please order by email or FAX to tourist association.
(rate becomes payment with postal transfer paper to enclose after the arrival of product. Please bear transfer fee. It costs the postage (than copy 340 yen) separately.)
== = =
[price] 550 copies of copy 1,000 yen-limited
[handling place]
Shirataka-cho Tourist Association (Flower Nagai Line Arato Station)
Roadside Station Shirataka Yana Park Ayu Ja-ya Tea House, palace sound of boiling water in a teakettle
doriimu Farm, Shimizuya liquor shop
Six noodle shops (in Cherry tree of Kama-no-Koshi teahouse, bear shop, senrian, the side Hassun, quiet village, takaraomoi side) in the town block
== = =
[in the case of FAX order]
As for the order, DL print has order form than the following by FAX
Apply after filling out necessary matter.
http://f.tukiyama.jp/benihana/p/pdf/calender2019_chuumon.pdf
[in the case of email order]
Confirmation has the order form mentioned above.
We specify necessary matter for email
kanko@pow1.shirataka.or.jp
Please send madeo.
[the application deadline]
Until Friday, November 30
(it may be mixed up in the stock situation)
[sending time]
We send out sequentially by until the beginning of December.
2018.11.01:
We send sightseeing information of Shirataka-machi. Safflower, autumn are komori in spring in sweetfish, winter in cherry tree, summer.
Search of Yamagata Reviews information